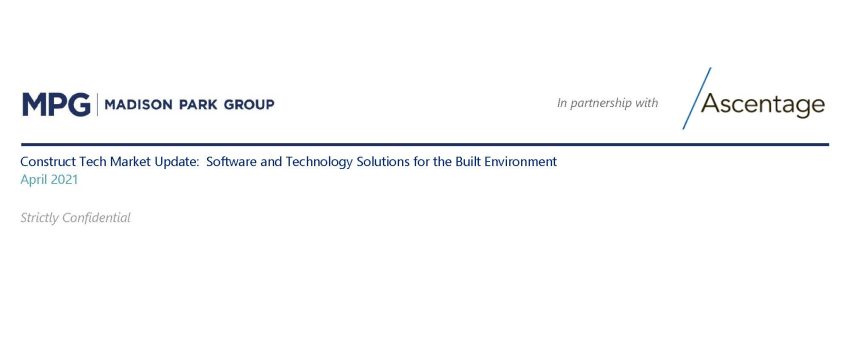 Built Environment Market Update April 2021
April 29, 2021 | By admin

Madison Park Group (MPG) announced the release of its Construct Tech Market Update in partnership with Ascentage Group.

MPG's Built Environment practice is spearheaded by Jeff Herriman and Drew Ogden with support from Michael Magruder. Mr. Herriman commented, "The train has finally arrived at the station.  Industry observers have been forecasting for years how technology could address the ills of the construction industry; and improve the sustainability and performance of buildings and infrastructure.  As the digital transformation of the built environment takes hold, significant opportunities will emerge for both strategic and financial investors."

Madison Park Group (MPG) actively tracks the fast-developing Construct Tech landscape and has observed several trends and developments:
Digital transformation of the built environment has begun in earnest, impacting the full life cycle of design, planning, construction and operations for architects, engineers, contractors and developers
COVID-19 has accelerated the uptake of construct tech tools, especially those enabling collaboration, distance working and jobsite safety; longer term, owner/operators have begun to rethink building and infrastructure investments
Nonexistent before 2010, the construct tech eco-system now comprises large global software players, over 5,000 startups who have raised over $3 billion, focused venture capital and private equity firms and an active M&A environment
Please click here for access to the update report.
Our Partnership
Madison Park Group is a strategic M&A and capital raising advisor to the global software economy. In November 2020, MPG formed a strategic partnership with Ascentage Group ("Ascentage"), a business development and M&A advisory firm addressing the strategic and tactical business needs of growth-stage companies developing construction technology and software for the built environment. Ascentage's domain expertise in design, construction, infrastructure, and asset management technologies further enhances MPG's rapidly expanding industrial technology advisory practice.
The firm's principals have sat on both sides of the table, advising disruptors, consolidators, and incumbents as they navigate strategic initiatives. Industry leaders trust Madison Park Group's experience in the marketplace.