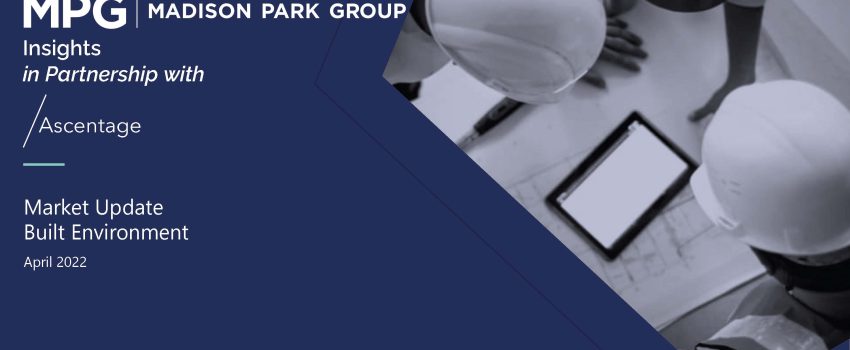 Built Environment Market Update April 2022
April 26, 2022 | By admin

Ascentage Advisors and Madison Park Group (MPG) actively track the Built Environment ecosystem. We are particularly interested in four key trends:
Software industry leaders focus on Digital Twin platform solutions that establish a common data environment and assure information flow – not only from planning/design through construction and into operations, but also from field operations to headquarters.
After a series of missteps, robotics-based automation and other advances from the manufacturing sector – lean, off-site production, pre-fabrication and modular building – are poised to have an impact on construction.
Of the advanced technologies being brought to bear, AI brings predictive insights, surfaces design alternatives, and seems poised to have the farthest-reaching potential to change the built environment, with impacts across the full lifecycle.
Global supply chain disruptions and increased attention to occupant/tenant experience represent long-term systemic changes that have fundamentally reset the operational agenda for owners and operators of new and existing building and infrastructure.
"As the pace of acquisitions and later stage funding rounds continues,
incumbent construct tech players are facing a growing existential strategic threat from
well-capitalized businesses backed by multi-billion dollar growth equity and PE funds"
– Jeff Herriman, Managing Director at Ascentage Advisors and Madison Park Group 
Please click here for access to the update report.